about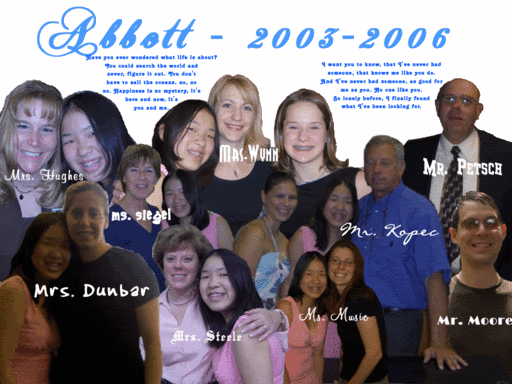 Hey everyone. I'm you're normal 13 year old girl with
adventures
,
stories
..and oh yes..problems. Everyone has them. Life's like that. You have to go through
problems
but the best way to do it..is through other people. I know that
I
have been through the good times and the
bad
but in the end...because of advice from other people...I
overcome
that problem. And that's why I'm here for you! So ask me anything! I'm on at least once a day so ask
away
! Ha..that rhymed.
ABOUT ME♥
---->Mmkay...my name's Maggie but only the cool people call me M-CHA, Magpie or Magz. I go to AMS which I love to death and I am going to miss it so unbelievably much next year. I love language arts even though math is my best subject. You can call me a teachers pet. As if I care! Puh-lease. I don't care what mean things other people say about me because I know that they're not true. Hmm..anyways, I love Language Arts && I'm suh-weet at math. Favorite teacher? Er..that's a hard one...Mrs. Dunbar or Ms. Music.. I'm not afraid to express myself && I love taking risks. It is part of life. Cedar Point is my anti-drug. I love it like no other. Roller coasters are my life. I have self-pride but I donâ??t have an ego unless weâ??re talking about "Fifth hour" vs. "Seventh hour". My favorite place in the world is NYC. Love love LOVE it there. I love silly nicknames like KVAN, Sausage && the Kopemyster. Heck yes. Wild, Crazy, Random, Silly = ME.
---
advice
What are some good songs that kind of describe 8th grade graduation? Recent if possible, like the last 10 years or sooner. NOT GRADUATION BY VITAMIN C - too common. Any thing that would have to do with it. Like, describing change, moving on, friends forever, graduation, "i will remmeber you", good times, etc.

Easy Five if you give me good ones.
Well..they did do "I Will Remember You" at our graduation today (which made me cry...but whatever). The Start Of Something New, by High School Musical is good for like the beginning of something.

"On The Ride" by Aly&AJ is a GREAT one. It's describing how life has moments hard to describe.

"Breakaway" - Kelly Clarkson
"Only You" - Mandy Moore
"Because You Live" - Jesse McCartney
"Good Life" - Jesse McCartney


Yeah...

*♥
MC
---
ok on this survey it asks your heritage.....is your heritage like if your german or like italian or irish..etc? or does it mean like your race? i know dumb question but ill rate high.

thanks!
It's like your culture, traditions. Um, tradition would probably be the best way to describe it. And it's not a dumb question. =]

*♥
MC
---
i started my period in 6th grade. my mom knows. then i didn't have it again for another year. she knows about that. that was a year ago. ive been regular ever since, but am afraid to tell her. now she wants to take me to the doctors cuz she thinks theres something wrong with me. what should i do?
Oh jeezy..I think you should take your mom's advice and go to the doctor. It's the best way to handle it. There is probably nothing wrong with you, but it's safer to check!

*♥
MC
---
ok im only in 7th grade and i know that i wont be going on the senior trip for like 5 years but im just asking now...
well for the senior trip they always go to disney world and i really wanna go but we have to fly and i hate flying (never been on a plane and dont plan on going on one) but are planes really that bad i mean my mom said that she was on a plane and they hit REALLY bad turbulance...so for those of u that fly a lot do planes hit turbulance a lot or just sometimes and are plane rides scary?
I LOVE plane rides. Okay, turbulance usually happens during bad weather, and the air patrol tries to avoid bad weather completely. I've been on a plane over 50 times and I've never been hit by lightning bolt, or had roller coaster rides on a plane. Never. Plane rides are definately not scary.

*♥
MC
---
14/f here.
ok here is the deal. one of my stepmoms employes has a really cute son. the problem is he is 16. we hang out in 4-h and when he comes over to my dads house, but thats just about it. i really like him too. i really want to go out with him. WHAT SHOULD I DO?

p.s. the kid i likes little brother is in my grade and we arent exactly friends... would it be weird if i started to date his older brother
Wow...that's a bit tough. Maybe you should bring a friend first (if not already). Then, flirt...little by little. Don't push it. Soon, you can tell if he likes you or not. You'll be fine! And if you seriously can't, ask him straight up.

As for the other problem. Oh jeezy. Um...I don't think it would be a problem. It would be weird, yes, but that shouldn't stop you. So go for it!

Good luck!

*♥
MC
---
is it okay that my boyfriend is 3 years older than me? I'm 13 and he's 16 is that bad?
That's perfectly fine.

*♥
MC
---
whats a player means? if you flirt a lot it means ur a player? cause my friends are calling me when they see me talking to the guys...
A player is like a cheater. Like...you are a guy (just pretend) and you go out with this girl. You break up with her just to go out with another girl. Then you break up with her to go out with another girl. It's someone who makes the girl really love him and then break up.

If you're just talking to some guys....that's called flirting...not playing unless you have a boyfriend.
---
okay so there's this guy. i sorta like him. i wanna go to the 8th grade dance with him. but h's the type of guy who is really flirty and such. he always tells me how much he loves me and i would really like to go to my 8th grade dance with him. but it seems that he wants 2 go 2 the 8th grade dance with pactically n e grl. but the only problem is this guysis like my friggin brother. but i love him more then that. help? ♥
Hmm...I say go for it. I say ask him to dance. If he's really that important, take a chance. =]

Good Luck!!

*♥
MC
---
Hey all. I was just wondering if you could inform me about which park is better between the theme parks and between the water parks, in Disney World in Orlando, Florida. I am a thrill-seeker, meaning I like to go on great adventures and ride really scary roller-coasters, and I also like fun water rides and swimming (especially in wave pools!). Thank-you for your time.
Okey doke. I'd truly say to get a hopper. A hopper is a pass that will let you to all four theme parks with just one little card. (Don't loose it!). But if you're just going to one place I suggest...don't. Go to at least 2. MGM & Epcot are the two I suggest. MGM offers Rockin' Rollercoaster ft. Aerosmith, and the Tower of Terror, which make that park worthwhile. Epcot has Mission Space, Test Track and Soaring. Those are pretty fun. But I really suggest getting a hopper. Blizzard Beach, the water park, is byfar my favorite..

And if you're a TRUE roller coaster maniac like I am...go to CEDAR POINT in Sandusky, Ohio if you haven't already. Cedar Point is MUCH better than other silly theme parks. The Millennium Force is a 300ft. roller coaster; Top Thrill Dragster is 420ft. at 120 miles per hour is the TALLEST and FASTEST roller coaster in the world; the Mantis if 145ft. and is one of the tallest STAND UP roller coasters in the world. Other roller coasters and thrill rides include Raptor, Gemini, Wicked Twister, maXair and the new ride, Skyhawk.

Learn more at cedarpoint.com

Ick I sound like an advertisiment..haha.

Well have fun down South!!

*♥
MC
---
Okay so there is this girl at my high school and i guess she started likin' the guy i happen to talk to and kinda sorta love. Well she is going around saying they 'talk' .. but here is the problem i asked him what was goin on with them. he says 'wtf' Don't worry about that. i don't know what do .. i just want to know how to ask him about her without him being mad. and if i should move on?


Listen to him. If he is telling the truth, he's totally there for you and being truthful. If he's lying, you should move on.

*♥
MC
---
For school, we had to read the book "To Kill a Mockingbird" by Harper Lee and I really didn't like it. Not to sound shallow or immature or anything, but the whole racism theme was rather dull (not saying that racism is dull, but I mean that it's dull to read about when you could be reading other things. If you want to read about racism, go take a History class and learn about it from a text book), and the background setting of a dusty little town in Alabama and the boring, nosy, gossipy people without lives was not appealing. It's not exciting to read about. And Scout wasn't a realistic person. I mean, what 7-year-old uses words like "morphodite"? Take Les Miserables, it's about redemption and is very dramatic and exciting---a renounced thief on the run.I am the only person in the whole grade who didn't like TKAM. Whenever I talk to anyone about it they always go "OMFG I LOVED IT HOW CAN YOU NOT LIKE TKAM?!" Now, we have to write an essay about whether we liked it, and saying that it was not appealing and Scout is not realistic is not tangeable. She'll say it's off-topic and has nothing to do with the meaning of the book. I understand the meaning of the book, but I still don't like it. I talked to my dad and he just said that I'm not mature enough for such advanced literature, which is not true. What am I supposed to do?!
Okay, one Scout is like adult and childlike at the same time because Harper Lee wants you to look at how racism is from a point of view from a child. The adult words are there to lead you through the book so I runs smoothly. And look at this, whenever Scout talks, she never says large words. In fact, she says words like "waked up" and phrases like that. The books theme is not only racism. It's about maturity, and being an unlikely hero. I'm not sure your teacher explained it thoroughly because there are so many metaphors that make it exciting. Like the oh-so-famous mockingbird metaphor: A mockingbird is innocent as Tom Robinson and Boo are as well. And as I said...racism is just ONE theme.

Well anyways, I think you should tell your teacher the points on why you didn't like it. Tell her why you thought this and that. If she is not happy with what you are doing, remind her that you she is the one who assigned this.

Read the book "No More Dead Dogs". You seem EXACTLY like the character, Wallace Wallace.


*♥
MC
---
What is the thematic relationship between the story told in "To Kill a Mockingbird" and the books title? Discuss at least 3 characters that might be discribed as "mockingbirds".

i have no clue what in the world im suposed to write about. can someone please give me an idea what exactly its asking?? 5's
thanks
My gosh..I love that book.

Okay first off, thematic means theme. You see, to kill a mockingbird is a sin because they don't do anything to harm humans or to annoy us. All they do is sing.

For the three characters, use Boo, Tom Robinson and the African American community.

You might want to re-read the book because these are quite easy to find.

*♥ =]
MC
---
Recently I have developed a crush on a co-worker who is three years younger then me. However the fact that he is younger isn't my problem. My problem is he seems like he likes me for more than a friend but I'm having trouble telling. He's friendly with everyone but he seems different with me. He grins alot when I talk more so then when he talks with someone else. I have notice him looking at me but when I look at him he looks down or away or sometimes he'll give me a big grin. He has touched my hair a couple times and he acts really goofy with me. His ex girlfriend works with us too. But she isn't an issue because they haven't been together for a long time. Plus she thinks it's cute that I like him and she has a boyfriend that she loves. Anyways I explained to her the things he does and she thinks maybe he does like me. I just need more then one opinion on this. Another thing is when I left work one day I was standing outside the window waiting for my ride. When I turned around he gave me a goofy grin and waved at me through the window. I never notice him looking at any of the other girls that we work with like this. He'll play around with them but in a different way then with me. Please any help is appreciated.
Aww....even though I'm only thirteen, I know this guy likes you. =] That's really cute. Ask him out.

*♥
MC
---
Do guys tell you that they want you keep them up at night on the phone, because they just like talking to you?
What do you think, because i am really confused?

Hev
Nah..he probably likes you

*♥ =]
MC
---
MY friend is like relly relly relly skinny I mean she's thin right. My other friend is pretty thickish..I mean she has huge boobs and she's um overweight 4 sure. The problem is my friends, esp the thinest one, complains about her stomach. I'm overweight...and I kinda luk it in my school uniform.

They always complain "oh I luk so fat" "my stomach's getting huge" "oh if I eat chocolate i'll get diabetes" and it sorta sucks.

I'm not jealous of them because my stomach isn't huge it's jus a lil fat. It makes me feel bad because sometimes I'm down and they complain and complain and I get so upset. Plus I'm relly RELLY emotional.

Is there something I should do or should I jus act like I don't carE???
Okay, tell them how you feel. You should try to express yourself to them. And I think you might wanna help your "skinny" friend become a bit healthier.

*♥ =]
MC
---
what age can kids start to babysit other kids?
I believe it's 12. Well at least in MI. I think that's it.

*♥ =]
MC
---
Well next year I am going to a different school. But I am afraid I won't make friends cause in my other school I had no friends and I was lonely most of the time. Help?
Think of it like this: a new chance to start! The start of something new! You'll make friends. Don't you worry!

*♥
MC
---
ok so lately a lot of people have been talking about a show or movie called high school musical. what is it about? is it like grease or something? i've never even heard of it but people around school seem to know all about the thing. what tv station is it on too?

thanks im just curious.
I love love love love love love love that movie!! =] Zac Efron & Vanessa Anne Hudgens. It's about this guy who's a jock and is afraid to sing and then he does sing with this girl.

Go here:

http://disney.go.com/disneyvideos/television/highschoolmusical/index.html

*♥
MC
---
My eyebrows were thick until I attacked them. But they grow in very long pieces.. and they often get pushed down over my eyelid. I tried cutting those.. but it looks weird when I do that.

Should i get my eyebrows professionally done?

I want my eyebrows not to be so low near my eyes.. I want an arch..

Do I grow out my eyebrows first and go see them?

Or go to one and get it done and
then wait for it to grow out?
Get them professionally done. You'll look great!

*♥
MC
---
Whats better as just a laptop to use for personal use for me, a mac or pc?
Well...I have a Dell Inspiron E1505...so I'd say PC. But this is truly opionated.

*♥
MC
---