about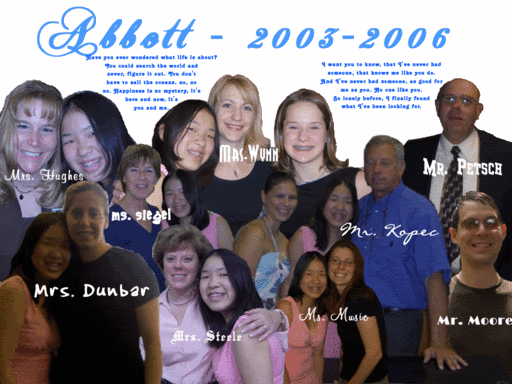 Hey everyone. I'm you're normal 13 year old girl with
adventures
,
stories
..and oh yes..problems. Everyone has them. Life's like that. You have to go through
problems
but the best way to do it..is through other people. I know that
I
have been through the good times and the
bad
but in the end...because of advice from other people...I
overcome
that problem. And that's why I'm here for you! So ask me anything! I'm on at least once a day so ask
away
! Ha..that rhymed.
ABOUT ME♥
---->Mmkay...my name's Maggie but only the cool people call me M-CHA, Magpie or Magz. I go to AMS which I love to death and I am going to miss it so unbelievably much next year. I love language arts even though math is my best subject. You can call me a teachers pet. As if I care! Puh-lease. I don't care what mean things other people say about me because I know that they're not true. Hmm..anyways, I love Language Arts && I'm suh-weet at math. Favorite teacher? Er..that's a hard one...Mrs. Dunbar or Ms. Music.. I'm not afraid to express myself && I love taking risks. It is part of life. Cedar Point is my anti-drug. I love it like no other. Roller coasters are my life. I have self-pride but I donâ??t have an ego unless weâ??re talking about "Fifth hour" vs. "Seventh hour". My favorite place in the world is NYC. Love love LOVE it there. I love silly nicknames like KVAN, Sausage && the Kopemyster. Heck yes. Wild, Crazy, Random, Silly = ME.
---
advice
Recently I have developed a crush on a co-worker who is three years younger then me. However the fact that he is younger isn't my problem. My problem is he seems like he likes me for more than a friend but I'm having trouble telling. He's friendly with everyone but he seems different with me. He grins alot when I talk more so then when he talks with someone else. I have notice him looking at me but when I look at him he looks down or away or sometimes he'll give me a big grin. He has touched my hair a couple times and he acts really goofy with me. His ex girlfriend works with us too. But she isn't an issue because they haven't been together for a long time. Plus she thinks it's cute that I like him and she has a boyfriend that she loves. Anyways I explained to her the things he does and she thinks maybe he does like me. I just need more then one opinion on this. Another thing is when I left work one day I was standing outside the window waiting for my ride. When I turned around he gave me a goofy grin and waved at me through the window. I never notice him looking at any of the other girls that we work with like this. He'll play around with them but in a different way then with me. Please any help is appreciated.
Aww....even though I'm only thirteen, I know this guy likes you. =] That's really cute. Ask him out.

*♥
MC
---
Do guys tell you that they want you keep them up at night on the phone, because they just like talking to you?
What do you think, because i am really confused?

Hev
Nah..he probably likes you

*♥ =]
MC
---
I RATE 5s. Im 14/f and I have a lot of small problems that I can't discuss with my friends. Well.. I can, but they have problems of their own to deal with. Even when they tell me their problems, sometimes I freak out that night- not because of their problem, just from too much negativity in my life. Sometimes I really want to cut... but I hate blood, so I can never go through with it. I think I might give out a "i have no problems" kind of vibe. I don't show up as an emotional person cus I don't want people to see that. I don't have THAT many problems,its just things build up inside me. I have no one to talk to about issues- I won't be talking to my parents about them, so please don't give that advice. I also have major trust issues because of most of my friends during elementry school. So if I do tell my friends something, I end up freaking out that night thinking they will tell someone. I'm not emo, I dont dress it, act like it, or any of that. I'm just sad on the inside. Most of my sadness lately is caused of loss of control over my life. I REALLY like this guy and he has a gf... but theres nothing i can do about it. My grades are going down and theres not much I can do to change them... stuff like that.

Thanks SO much. Sorry it was so long.
-anomynous-
Well...first off, I seriously think you should express your emotions by writing. Write in a journal or diary or some sort. Put a lock on it..so no one can enter. I express a lot of anger/sadness by writing on the COMPUTER on my online journal..and it helps..a lot. It makes me feel a lot better.

Secondly, find a new guy to like. Believe me..there are countless guys you'll like.


And third...I know I am a stranger or you might think I'm no help what-so-ever...but I'm here for you. Who am I going to tell? No one..exactly. So I'm always here for you and if you need advice or encouragement or any of that stuff..just tell me.

-Love-
Maggie
---
I freeze up and have nothing to say during good conversations between other people. I really liek to talk a lot at home and with my friends. At school it seems liek i dnt say anything. And if i say something wrong ill get labeled fo rit. I want to Be Cool and likeable but also mysef at the same time. How can I become myself, say the right things,and be a good conversationalist?
You no what truly helped a good friend of mine overcome? By taking "Speech/Debate" class. It's so oral and it's amazingly effective. If you have that at your school, I highly suggest taking it next year. It makes you feel more comfortable talking to other people and not only do you gain increadible confidence, but you also learn public speaking which is America's number one fear. If you don't have this at your school do the following below.

I think you should join an afterschool club or something like that. You can gain confidence through sports and other things like that and it will totally help you gain confidence in the real world! Say it loud and proud!

-Love-
Maggie
---
Well I am 13 and a female. Lets just say my name is j.Well there is this guy lets call him a. Well I like a alot and I have a feeling that he likes me too. I think on Friday he was going to ask me to be his girlfriend because I heard his friends say ask her and they pushed him toward me. But he did not say anything and walked away. So I dont know what to do, do I wait for him or do I move on. Please help soon!!!! I rate 5's!!!


Don't worry...let things unfold by itself. He'll ask you out. No worries. You just have to be patient. =]

-Love-
Maggie
---