about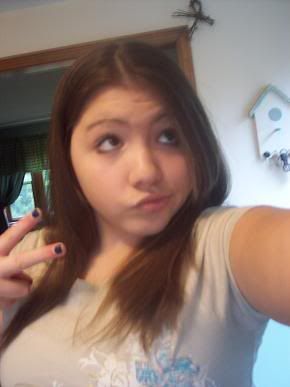 I went back to using my old user name!!!
I went back to using my old user name!!!
I went back to using my old user name!!!
I went back to using my old user name!!!
http://www.advicenators.com/column.php?u=fabulous11&sid=d2fa5f3871e19af0cffc5499726f01a6
http://www.advicenators.com/column.php?u=fabulous11&sid=d2fa5f3871e19af0cffc5499726f01a6
add me there!
---
advice
i know its a bad idea to pop a pimple, but what is the safest way to do it so that it won't cause more acne or scar?
Well you just pop it. Then make sure you like clean it out. After you pop it dont pick at it anymore or it will scar even more. But just a little FYI insted of poping it you could just put toothpast on it overnight. IT wont mae it go away but makes it less red and less notciable.

xoxJess
---
whenever i try to go to my myspace page it says it "can not find server" && "the page can not be displayed." i've tried getting to it through the emails, but it says the same things. it's really very frustrating.. is there anyway i can get to my mail?

-♥-
thnx
Myspace is a really big site, so it is down alot of the time. Just wait a little wahle and try again. They are probably tryingt o fix the problem now.

Jess
---
how can you stop yourself from being ticklish.
i know a few people who taught themselves not to be ticklish. how can you stop yourself?
you cant really stop yourself from being ticklish. I guess you could get people to tickle you a lot so then your so use to it that it wont be that bad.

Jess
---
what kind of dog is on that commerical that says "They may be bugs on some of you mugs but they ain't no bugs on me" I really want that dog that sings it cause its soo cute do you know waht kind it is?

aww i love that commercial! lol im pretty sure its yellow lab. There so cute!

Jess
---
my best best best friend is moving to eather London or Dubai! im really upset and most days of the week i end up crying at night. theres absolutaly nothing i can do about it. its a definate and i only have one more month with her. who knew our 7 year friend ship would come to a end. im so upset. please help
Aww im sorry. I know how hard it is. My best friend moved about a year ago too. Your friend ship wont come to an end. My friend has been gone for a year and it seems like she never left. Just keep in touch. Try to vist maybe once a year. I know its hard but while she is here you have to be strong around her. It is just as hard for her and if she sees you crying and being upst she will too. Just dont worry. Atleast you had a great 7 years and great memories.

Jess
---
THIS MAY S0UND LIKE A STUPID QUESTION; BUT HOW DO YOU KNOW IF A GUY LIKES YOU? ♥
If you hang out.talkd alot. Or if your always laughing when your together, if he looks at you alot, or make good eye comtact when you talk. you can just kinda tell most of the time...like you get that feeling.

Jess
---
Ok so im only 13 but im in love i've been with this guy he's 15 i've known him since i was 3 he asked me to marry him because he said he loves me what should i do
Well your 13 and he is 15...your both to young to get married anyway. Wait till your older.

Jess
---
i heard that lemons can help make ur hair lighter...does that really work?
and if it does, what do u do with the lemons?
yup! you just put the lemon juice in your hair and sit in the sun. Im not sure how long maybe an hour and you could do more if you want it lighter.

Jess
---
im a 15 year old girl and im around 5'9" and 150 pounds.. is that average? i have a little pouch in the front that i HATE so im gonna lose weight soon but what would be the average weight i should be?
No, that seems normal because of how tall you are. If you wanna loose a few pounds thats ok, but dont go to far.

Jess
---
i am trying to become a better flirt. i am a male 15 year old. in ur opinion do u think at girls boobs would be a good approach?
in ur opinion do u think at girls boobs would be a good approach?

--I dont really understand what you mean by that? If you could refrase it and ask again i might be able to help...

Jess
---
how do you set a voicemail on a cingular phone? i tried calling 1 to go to the voicemail but it just says to dial the 10 digits you are trying to call or whatever. help please? 5's will be given
Maybe your phone just isnt working right. I have cingular and when i got my hone i called voicmail and it gave me options and that is how i made mine. Try calling the phone company.

jess
---
Does anyone know any really easy hairstyles? My hair is about 2-3 inches below my shoulders. My hair is REDICULOUSLY thick. To the point where hairdressers get frustrated dealing with it.

I need some really easy hairstyles. Besides ponytails and messy buns.

Please Help, I'm tired of having ordinary hair =(
I have the same problem .I straighten mine and it makes it so much easier to deal wiht (even if your hair isnt curly) Also when you go to the hairdressers ask them to layer it, it will make it much thiner.

jess
---
i am going to a sweet sixteen and i want to know how i should do my hair if i am wearing a black halter dress that has a few sequins around it. it's also knee-length. any ideas on hair?
Do lots of curls. That what people normally do. It looks really cute. You can do them like banana curls or loose ones.

Jess
---
Under the "send" button on an AIM screen theres a little bar with 3 red, 2 yellow and a bunch of green squares. Does it do anything & why is it there?
It shows the limit of im's you can send. Like say you were typing to some one and you just keep sending and seinding i/m's in a little amout of time without them answering back the bar will keep going down. Then once it gets to the end you wont be able to send anymore im's for a certain amout of time or umtill the other person answers.

Jess
---
Im am totally skint and it is doing my head in and I dont know what type of job to ask in for. Do you know of any suitable jobs for female 14 year olds? And whats the best way to ask in for one? Ive never done it before and Im kind of shy

luv rachxx
Therre really arent that many jobs out there for 14 year old. You could babysit. Thats where everyone starts off. Umm some gorcery stores might hire you but you would be ddoing like bagging at the register. Also some dunkin dounuts(if they have them around you)might hire at 14. But thats really about it.

xoxJess
---
on canal street in new york do they really have people with stolen goods that have the real designer bags? do the bags on the street look verry real even though they are fake? 5's for anyone that comments =)
Yeah most of them are fake. But nobody can tell.

Jess
---
ok, i get tanned VERY easily. I literally just have to stand outside for about 10 minutes on a warm&sunny day and my skin becomes noticably darker. The thing is, I hate this. When I become tan, my skin looks oily and dirty, even though its not. Is there any way I can prevent myself from getting so tan? BESIDES staying indoors because im a very active person and that is almost impossible for me.

♥
Wear a good and strong sun tan lotion.

Jess
---
how do you add someone to your favorites?
go to the persons page and at the top clikc add to friends. That confused me too at first, im glad i wasnt the only one. haha.

xoxJess

---
Tomorrow is a trip with my friends to a really fun theme park. We've been planning it for a long time, as a celebration of our graduation. Now I'm on my period and I really don't want to have to miss the trip! It was my idea and it's going to be so fun! Mom says I can just avoid water rides and I'll be fine but the water rides are the best part!!! And I usually feel really gross & sick when I'm on my period. Besides, everyone will pressure me to do it & call me no fun if I won't ride them. I'm embarrassed to say "oh I'm on my period" in front of my guy friends. That's nasty. I'd use a tampon but those never work for me. I leak every freakin' time! So I don't know whether I should skip it or go & feel left out & sick. I'm so afraid the day will be diappointing. I hate being a girl.
aww that suckss! Just wear a more obsorbent tampon or a bigger size so you dont leak. And for the sickness, take some midol it works great.

xoxJess
---
i wear my eyeliner under my eyelashes..and like, my eyelashes fall out a lot. is that bad? will they grow back? if so, how fast because i dont want to lose all my eyelashes and like, not have any lol. kay thanks
Its not bad. Just make sure to washit off before you go to bed.That makes them fall out less.

xoxJess
---