about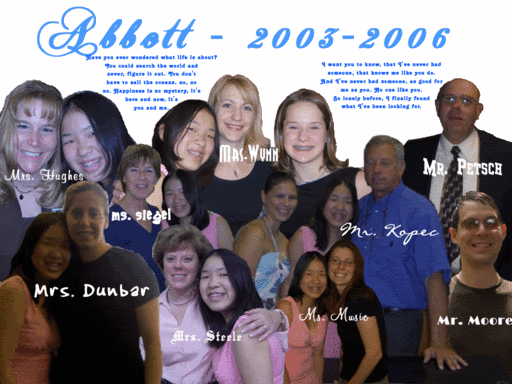 Hey everyone. I'm you're normal 13 year old girl with
adventures
,
stories
..and oh yes..problems. Everyone has them. Life's like that. You have to go through
problems
but the best way to do it..is through other people. I know that
I
have been through the good times and the
bad
but in the end...because of advice from other people...I
overcome
that problem. And that's why I'm here for you! So ask me anything! I'm on at least once a day so ask
away
! Ha..that rhymed.
ABOUT ME♥
---->Mmkay...my name's Maggie but only the cool people call me M-CHA, Magpie or Magz. I go to AMS which I love to death and I am going to miss it so unbelievably much next year. I love language arts even though math is my best subject. You can call me a teachers pet. As if I care! Puh-lease. I don't care what mean things other people say about me because I know that they're not true. Hmm..anyways, I love Language Arts && I'm suh-weet at math. Favorite teacher? Er..that's a hard one...Mrs. Dunbar or Ms. Music.. I'm not afraid to express myself && I love taking risks. It is part of life. Cedar Point is my anti-drug. I love it like no other. Roller coasters are my life. I have self-pride but I donâ??t have an ego unless weâ??re talking about "Fifth hour" vs. "Seventh hour". My favorite place in the world is NYC. Love love LOVE it there. I love silly nicknames like KVAN, Sausage && the Kopemyster. Heck yes. Wild, Crazy, Random, Silly = ME.
---
advice
ok i want to start downloading songs but i like so much music i dont know what songs to download....can someone plz tel me some good songs.
(p.s. i listen mostly to 104.1 ,and 97.9 if that helps.)
Start of Something New - Troy & Gabriella
Over My Head (Cable Car) - The Fray
Dirty Little Secret - All American Rejects
On the Ride - Aly & AJ
Soundtrack to Your Life - Ashley Parker Angel
So Pretty - B5
Only Hope - Mandy Moore
Stick Wit U - Pussycat Dolls
Bad Day - Daniel Powter
You're Beautiful - James Blunt
Defying Gravity - Idina Menzel (Wicked)
Mr. Brightside - The Killers
Lights & Sounds - Yellowcard
Dance Dance - Fall Out Boy
Sugar We're Going Down - Fall Out Boy
We're All in This Together - High School Musical
Unwritten - Natasha Beddingfield
The Sun - Maroon 5

-Love-
Maggie
---
(
Rating: 5
) thank you
---